About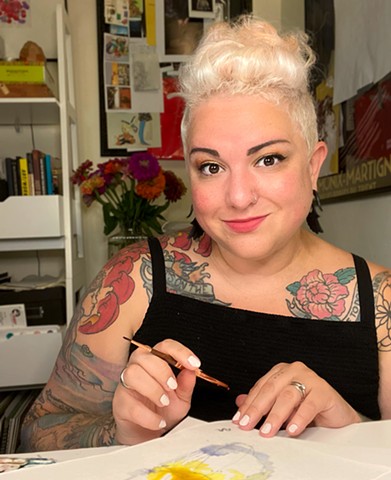 Ann E. Lawton is a mixed media artist, board certified art therapist, and art educator teaching at the University of Wisconsin--River Falls.
Although formally trained in photography and printmaking, Ann works primarily with mixed media art approaches such as collage, drawing, painting and sketchbook practices.
As a registered art therapist, Ann has served a variety of individuals, groups, and communities in the St. Croix Valley of western Wisconsin and Minnesota. She has a wealth of experience in working with those with depression and anxiety, and trauma.
Ann has taught in the art department at the University of Wisconsin--River Falls (UWRF) since 2011. She teaches classes such as design foundations, drawing courses, and introduction to art therapy. In addition to her teaching responsibilities, Ann is also the campus Violence Prevention Coordinator, and facilitates group art therapy in student health and counseling services. In 2018, she was awarded the College of Arts and Sciences Outstanding Teaching Award for Excellence in Teaching at UWRF, and in 2021, she received the Chancellor's Award for Academic Staff in her role as Violence Prevention Coordinator.
Ann received her BS in Broad Area Art from UW-River Falls in 2008, and a MS in Art Therapy from Mount Mary University, Milwaukee in 2011. Ann lives and works in River Falls, Wisconsin.